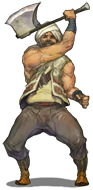 Bandit
is tree-type enemy from
Kingdom Fantasy
. It can be encountered at
Piramat Area
.
Statistic
Edit
HP: 380
MP: 34
Strength: 19
Spirit: 10
Defence: 18
Agility: 42
EXP: 25
Lotus: 50
Drops: None
Elemental Immunities: None
Elemental Weakness: None
Status Immunities: None
Weapon Weakness: Bow and Gun (Long Range weapons)
Abilities: Attack
Regular attacks should do the trick. Remember to use San's Cheer ability when needed.