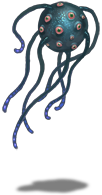 Gayzer is a beast-type enemy from Kingdom Fantasy. It can be encountered at Memorio Ruins.
Statistics
Edit
HP: 9231
MP: 238
Strength: 87
Spirit: 28
Defence: 25
Agility: 139
EXP: 8904
Lotus: 970
Drops: None
Elemental Immunities: Ice (x0.5); Thunder (x0.5); Water (x0.5)
Elemental Weakness: Wind (x1.5)
Status Immunities: Death (x0.0); Poison (x(-0.5)); Blind (x0.0); Silence (x0.0); Confusion (x0.0); Paralysis (x0.0); ATK up (x0.0); DEF up (x0.0)
Weapon Weakness: Gun
Abilities: Body Ram; Thunderbolt (if Party's level is above 29); Paralyse; Earthquake
Regular attacks should do the trick. Be cautious if they attack in group, they could knock you out easily...