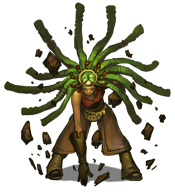 Mandragora
is a plant-type enemy from
Kingdom Fantasy
. It can be encountered at
Randoria Forest
.

The Mandragora is part of the secondary quest "The Randoria Mystery".
Statistics
Edit
HP: 769
MP: 86
Strength: 24
Spirit: 17
Defence: 20
Agility: 61
EXP: 156
Lotus: 98
Drops: Phoenix Fial (13%)
Elemental Immunities: Fire (x0.5); Ice (x0.0); Thunder (x0.0); Earth (x0.0); Wind (x0.5)
Elemental Weakness: Water (x1.5)
Status Immunities: Poison (x0.0); Blind (x0.0); Silence (x0.0)
Weapon Weakness: None
Abilities: Attack; Flame
Use regular attacks to kill it.