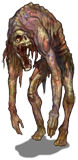 Zombie
is an undead-type enemy from
Kingdom Fantasy
. It can be encountered at
Remora Deadlands
.
Statistics
Edit
HP: 4234
MP: 213
Strength: 66
Spirit: 17
Defence: 29
Agility: 82
EXP: 3755
Lotus: 299
Drops: Nature Fial (25%); Lotus Plant (25%)
Elemental Immunities: None
Elemental Weakness: Water (x2.0); Holy (x1.5)
Status Immunities: Poison (x0.0); Blind (x0.0); Silence (x0.0); Confusion (x0.0); ATK up (x0.0);DEF up (x0.0)
Weapon Weakness: Gun
Abilities: Attack; Relax; Death; Crater; Boost
Use regular attacks against it. If you have San's special skill Holy Praise use it as well, it is very effective against that opponent.